One of the many services BlackWolf provides is Volumetric Strapping, or Tank Calibration. While BlackWolf utilizes multiple MPMS methods including Metal Strapping or Optical triangulation to conduct their inspections, we've worked hard to bring something new to the table. BlackWolf has worked in partnership with engineers, mathematicians, and industry experts to develop a new, highly accurate 3D laser scan method. 
This new technology allows BlackWolf technicians to be able to gather exponentially more data points, giving the client not only more information, but more accurate information. This new technology also means BlackWolf can perform tank inspections faster and safer than traditional methods.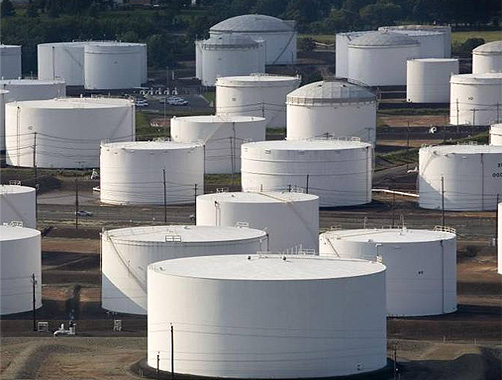 After BlackWolf physically collects measurements in the field, measurements are compared with the required API Manual of Petroleum Measurement Standard MPMS CH2. These measurements can then be provided in a fully analyzed API Inspection 650/653 report or customized to provide you the specific capacity tables and volume measurements you need.
This 3D laser technology is highly accurate regardless of the size or type of storage tank. Whether you are needing volumetric strapping on your water, petroleum, or chemical tank, you can rely on BlackWolf's reports.
What should I consider when it comes to calibrating above ground storage tanks?
When looking for the actual volume of an above ground storage tank based on liquid height,  volumetric strapping the created capacity tables is the most cost effective and accurate assessment.  
But this approach does present a unique set of challenges that should be taken into account. Some of the challenges include needing the ability to account for liquid head stress, deadwood deductions, or floating roof displacement. BlackWolf's 3D laser scanning analysis gives the whole picture;  a point cloud reconstruction that not only factors in the unique challenges of the tank, but that measures them accurately.  
Calibration tables generated with outdated processes can cost you time and money if you're not getting the whole, accurate picture. 
Why should I update my original capacity tables?
Typically, initial calibrations are recommended on any new construction tanks, or on any vessels after the completion of a hydrostatic test. These initial calibrations provide the data for the capacity tables. 
Subsequent calibrations are recommended anytime there is a structural or foreseeable change on the tank. For example, calibration may be recommended if any of the following occurred:
A API 653 Out of Service Inspection was done, and major tank repairs were completed. This could include anything from the replacement of a doorsheet or corroded area, floating roof installation or bottom plate replacement.
There was a process change which could include a change in temperature or specific gravity of the product.
Components of the tank were altered. This commonly means the reference gauge height location was changed, or a new installation was done on the tank such as a new sump pump or steam coil.
At a minimum, the API recommendation is for recalibration to happen at least every 15 years to monitor tank settlement. Tank settlement can cause deformations in the tank shell, reducing the volume of the tank, and impacting the strapping tables. Measuring tank settlement over time allows for adjustments in the capacity tables. 
These additional calibrations are usually done in conjunction with API 653 Out of Service inspections once all required tank repairs are completed. The measurements collected during these calibrations usually added to the Post Repair Inspection trip.